Cerlingo language competency testing saves you time and cost in hiring subject area expert translators, proofreaders and editors with total confidence.
With a few clicks you can invite and test as many potential candidates as you need for their translation, editing and proofreading skills. This can be done manually from Cerlingo's website or you can have your website integrated through an API for testing to become a standard part of your own recruitment process.
You specify the type of test and the subject area e.g. a translation test for legal documents, we then assess the candidates you invite and inform you of the outcome.
Our Assessment Panel is made up of examiners, senior university lecturers and expert linguists.
Using Cerlingo, you will be certain to have qualified translators, editors and proofreaders for every project.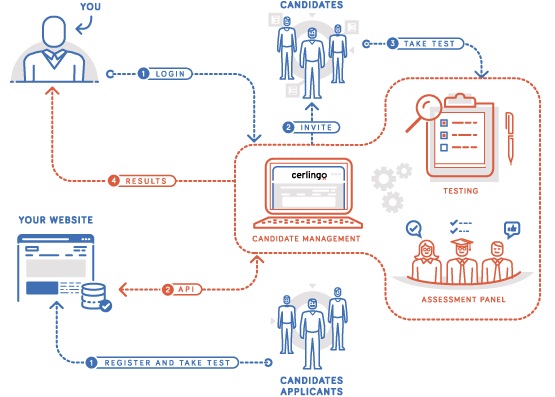 Integrate Testing Into Your Recruitment Process Through API
Cerlingo API allows you to seamlessly implement language competency testing as part of your vendor recruitment process so you never risk hiring incompetent translators. The API can automatically update your vendor management database or Applicant Tracking System (ATS) with newly qualified translators, proofreaders and editors for the language pairs and subject areas you choose in advance.
Cerlingo also offers custom testing for subject areas that you do not see listed on our website. For custom tests please email

.
Access Already Qualified Talent
We also give you access to a directory of translators who have passed our certification programme and are ready to get started on projects without any further testing. You can access this service from your dashboard once you have purchased a plan.